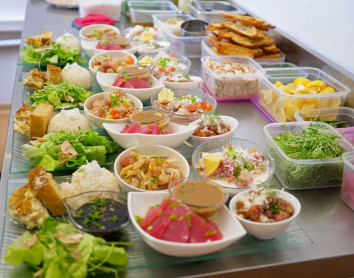 A fusion of exotic and classical flavors
Not only will you love New Caledonia's postcard-perfect settings but you will fall in love with the island's unique gastronomy. From restaurants to delicatessen boutiques, your palate will be thrilled.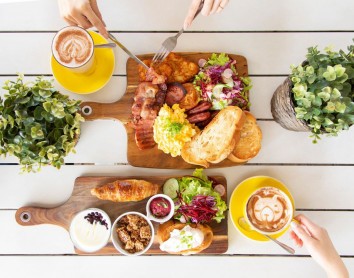 A gourmet's destination
In Noumea, you will find countless of restaurants that celebrate the essence of French cuisine in New Caledonia. In the middle of the South Pacific, you will be able to indulge in all the regional specialties of France: Alsatian choucroute, petit salé, raclette and even cassoulet! Some restaurants, such as La table des gourmets, are all about traditional french cuisine! For a more exotic approach to local gastronomy, try the Pandanus or L'Assiette du Cagou. You will enjoy the fresh produce prepared with influences from around the world. Enjoy a filet of freshly-caught fish, simply fried and served with a side of sweet potato and coconut gratin! Are you hungry yet?
As you tour the island and discover charming villages and the tribes, you will taste some amazing traditional melanesian dishes. Venison ceviche, green papaya chutney, pickled spicy vegetables, homemade jams and exotic preserves are just a few examples of New Caledonian basics. Once on the East coast, you must try the Bougna, the Kanak staple dish.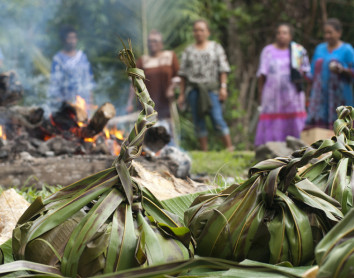 Diving into the Kanak cuisine
In the loyalty islands as well as in the Grande Terre, you will probably find the best dish in New Caledonia by discovering what the ancestral cuisine has to offer. Fish cooked slowly in banana leaves with coconut milk remains one of New Caledonia's  favorites.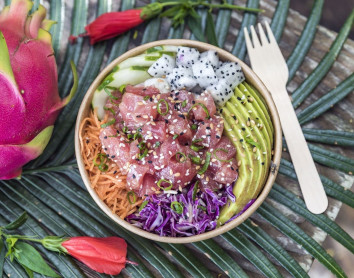 Let yourself be tempted by new flavors
New Caledonian gastronomy is truly an unique experience, thanks to the combinations of multiethnic influences. You can savor flavorful dishes that sublimate everything from French to Melanesian and Polynesian cuisine. Why not try venison carpaccio with green papaya rougail or yellow fin tuna sashimi with achards? Over the years, New Caledonia has developed a true culinary identity.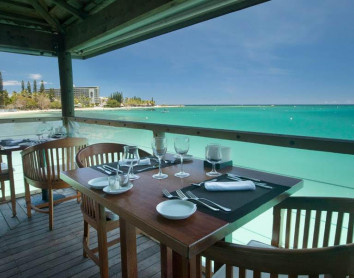 Great food with a view
While in Noumea, enjoy some of the city's premium restaurants: Au P'tit Café, Marmite et Tire-Bouchon, Le Roof, L'Hippocampe, Le Bintz, Le 1881, etc. They plate up refined dishes that will entice your taste buds and the restaurants feature amazing views. Take in the lagoon or the long stretches of tropical beaches as you savor great tasting food. Exoticism and refinement all in one!
Culinary itinerary
Throughout the island you will find authentic food and traditional restaurants. Choose from a wide range of guesthouses so you can enjoy the heartwarming homemade food. In the northern part of the island, don't miss the Poingam and Refuge du Cerf. If you are staying on the Isle of Pines, you must try the Beaupré's. While in Lifou, Fenepeza is another reputed eatery.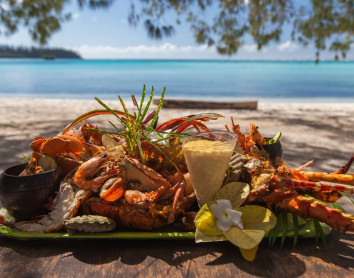 The lagoon's treasures
Enjoy freshly-caught fish or shellfish, satisfy your palate with either grilled or barbecued while enjoying the sunset! You can also take a seat  on the Isle of Pines beach, rediscover gastronomy at its simplest and tastiest. In an isolated villages or the city, mouthwatering food is everywhere. New Caledonia is a great destination for all seafood amateurs so don't wait any longer to book your flight to New Caledonia !