An activity at the heart of traditions
Game fishing, fly fishing, drifting, hawking, in a kayak, in a fully equipped boat, with or without a skipper... Fishing is a very popular activity in New Caledonia. Under the bright sun from early morning, the lagoon is buzzing and there are many opportunities to catch fresh fish.
Here, competition is almost non-existent, which makes fishing a fun activity. For a morning or a whole day, take advantage of a local guide and benefit from their experience about the best fishing spots New Caledonia has to offer.
Fishermen from all over the world come to New Caledonia to enjoya fishing paradise that is both intimate and grandiose. For a fishing safari on the lagoon, there are many charter companies offering to introduce you to the lagoon for recreational fishing or deep sea fishing.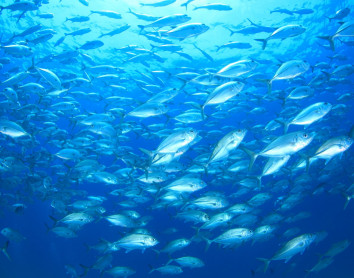 Fish with peace of mind
Sports fishing and leisure fishing are available all year round. From the Isle of Pines in the South to the Bélep in the North, to the mythical large South lagoon, the Loyalty Islands or even further offshore,New Caledonia offers a wide variety of fish.
Fly fishing
One of the most popular forms of fishing on the lagoon is fly fishing. Enthusiasts come from all over the world to the northern lagoon for bonefish. From mid-March to late September, conditions are ideal for fly fishing.
Fishing
Ever tried releasing your catch and then fishing! This sport fishing technique allows you to preserve the fauna of the lagoon. Several providers are at your service offering varieties includingWahoos, barracudas, sparefish. Fishermen who are adept at this new trend all say it is even more rewarding to release a big catch.
In canoes and kayaks
It is even possible to engage in sport fishing aboard a sea kayak. These boats are specially equipped with either rod holders or benches for fishing. To make the most of these activities, Mickaël Di Costanzo, a kayak guide, offers "à la carte" excursions with trips to Port-Boisé, Prony and Le Mont-Dore.
Adapted fishing regulations 
To maintain a sufficient marine population, fishing regulations have been established on New Caledonian waters. For example, it is prohibited to fish for mangrove crab from December 1 to January 31. This is to allow the preservation and renewal of the species.
Fishing quota's limit catches to a maximum of 40kg (fish, shellfish, molluscs, etc.) per boat, per fisherman,per day, (with the exception of pelagic species), regardless of the method of capture.